"I wasn't happy with my year last year, so I did a whole lot of mechanical and mobility work with a gentleman by the name of Randy Sullivan at the Florida Baseball Armory and that is where the consistency is coming from."
"I wasn't happy with my year last year, so I did a whole lot of mechanical and mobility work with a gentleman by the name of Randy Sullivan at the Florida Baseball ARMory and that is where the consistency is coming from."
We are excited to announce our new permanent home…
537 Laura Road, Lakeland, FL 33815
Tired Of Being Overlooked
Or Undervalued?
Ignored By Coaches,
Recruiters Or Scouts?
94% Of Players Get Ignored….
Gotten Hitters Out,
But Don't Light Up The Gun?
Worked Hard But Don't See
Results?
Choose How You Want To Start Getting Noticed, Or Call us at 866-STRIKE3
It's Time For You To Have An Individualized Baseball Training Plan That…
Increases Velocity
Improves Command
Makes Your Arm Healthier
We know being overlooked hurts. With the right baseball training plan, you can turn you body into whatever you want it to become.

God doesn't make junk, and human tissue doesn't have a free will.
If we get the training right, your body cannot decide not to adapt.
At the Florida Baseball ARMory, We ALWAYS get the training right.
And, we'll get it right for you
We Exist For Your Success
Hello, My name is Randy Sullivan. I am a physical therapist, a baseball coach, and a Certified Strength and Conditioning Specialist. I am also a dad who's son pitched in high school and dreamed of pitching in college. He worked hard and he got people out, but no one at the next level cared. Why? He didn't possess the build to pass the beauty pageant height and weight test and he didn't light up the radar gun.  When he checked those boxes, he finally got the opportunity he wanted so badly.
At the Florida Baseball ARMory, our ethos… our passion… our mission is to help every player get to a level of play at least one rung above where you could have gotten if you had never met us. Whether you're a youth player trying to make a travel team, or a professional player trying to ascend to MLB all-star or even Hall of Fame status. We give you the training and plan to increase velocity without pain.
Randy Writes … A Lot
Shop for Books/Videos on Pitching, Hitting, and Conditioning … And Check Out Hundreds of Blog Articles On Baseball Training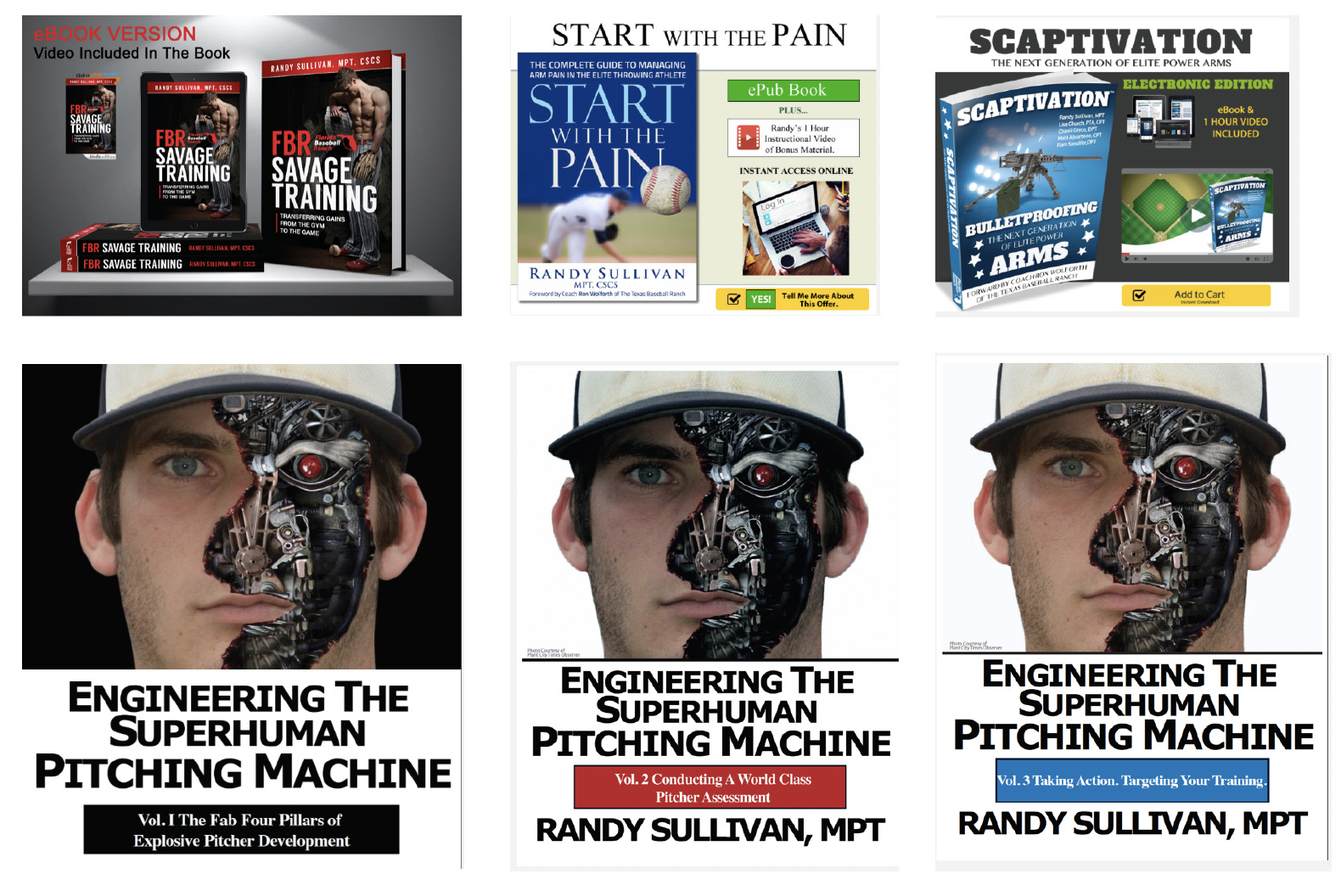 Shop Online For Books & Videos